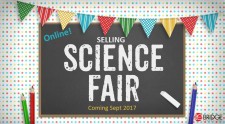 eBridge Connections set to host virtual "Science Fair" for sellers, featuring eCommerce platforms, web agencies, ERP consultants, and more.
Burlington, Canada, July 13, 2017 (Newswire.com) - eBridge Connections, a growing integration Platform as a Service (iPaaS) vendor, today announces that they will be hosting an online "Selling Science Fair" this September 2017 (date to be revealed). At the time being, eBridge is requesting that any businesses who simplify the selling process for merchants and entrepreneurs (provide consulting, have an app, etc), sign up to be an exhibitor, or Science Fair'ist, in the virtual event.
"We're calling on any ERP vendors, web agencies, ERP consultants, CRM consultants, eCommerce platforms or marketplaces, and app creators to showcase at our online 'Selling Science Fair' this Fall," says eBridge Connections Senior Marketing Manager, Lindsay Hampson. "Commitment is super low.  You create a short video pitching how you help sellers simplify business.  We will post it on one glorious and nerve-wracking day, this September 2017.  Sellers will be able to browse top solution providers and view the endless amount of options they have available to them – in a fun way."
Here's how vendors/exhibitors can participate:
Rather than creating poster boards, Selling Science Fair'ists will express their business' worth to the seller community in short 'science fair' style videos
It's as easy as emailing us, sending us a short, informal and fun video contribution (in MP4 format), and we'll drop it into the virtual gymnasium on the Selling Science Fair opening day
Deadline for submissions is August 15, 2017
Sign up here and we'll send you more info: http://www.ebridgeconnections.com/sellingsciencefair
And, don't forget:
It's free!
eBridge will be paying to advertise the event to merchants and entrepreneurs selling across the globe!
Please no putting down competitors, other platforms, other services, etc.
Have some fun with it!
For more information, or to ask questions, contact us at marketing@ebridgeconnections.com
Source: eBridge Connections
Share: