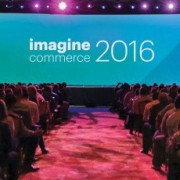 New connectors for Magento 2 Enterprise and Community editions provide merchants with universal ERP and accounting integration capabilities
Burlington, ON, April 11, 2016 (Newswire.com) - To coincide with the start of Magento Imagine 2016, eBridge Connections has today announced the availability of its ERP integration solutions for Magento 2. Leveraging the eBridge Connections universal integration platform, online merchants using Magento 2 Enterprise and Community Edition will now be able to connect their eCommerce storefront with their ERP or accounting system, and automate item, order and customer data processing.
Since establishing a partnership in 2009, eBridge Connections has been committed to delivering flexible and scalable integration solutions to Magento users worldwide. The eBridge Connections integration platform powers Magento integration with over 30 ERP and accounting systems including products from Microsoft, SAP, Sage, NetSuite, and Epicor.  The platform supports the integration of multiple Magento stores, as well as additional eCommerce, EDI, and CRM connections – all into a single ERP or accounting system.
"With many merchants upgrading or moving to the Magento 2 platform we understand the importance of providing scalable ERP integration solutions that will meet the needs of these growing businesses," said Colin Brown, CEO at eBridge Connections. "By maintaining our partnership with Magento, we've ensured that our solutions remain compatible with the latest platform and security updates to the Enterprise and Community Edition products."
The new connectors for Magento 2 will provide merchants with bi-directional, automated integration of sales orders, inventory, product data, and shipment updates with their back-office system. To satisfy heightened security requirements in the eCommerce industry both connectors will support the TLS 1.2 encryption protocol including the SHA-2 algorithm.   
To meet with eBridge Connections during Magento Imagine in Las Vegas, April 11-12, email marketing@ebridgeconnections.com. 
About eBridge Connections
eBridge Connections delivers powerful, cloud-based ERP and accounting integration solutions that automate vital business processes and eliminate the need for manual data entry. The eBridge universal integration platform supports over 30 ERP and accounting systems including products from Microsoft, Sage, SAP, NetSuite, and Epicor. With connections to the leading eCommerce and CRM applications, plus hundreds of EDI trading partners, eBridge Connections has become the integration platform of choice for businesses worldwide. For more information, please visit www.ebridgeconnections.com.
Share: