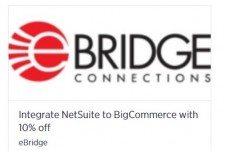 With the recent approval of a 10 percent off discount on the BigCommerce Marketplace Special Offers page, new signups to eBridge Connections can now enjoy 10 percent off when they integrate their online stores with their back-office NetSuite or MS Dynamics AX/365 ERPs.
BURLINGTON, Canada, October 26, 2017 (Newswire.com) - eBridge Connections, a leading iPaaS vendor of accounting integration solutions for your growing business, today announces 10 percent off NetSuite to BigCommerce, or MS Dynamics AX/365 to BigCommerce integration solutions. These new offers, lasting until December 2017, can be redeemed now on the BigCommerce Marketplace Special Offers page.
eBridge Connections has been ramping up their technical partnership with BigCommerce over the past year and are excited to round out 2017 by offering BigCommerce users some cost-savings when they choose eBridge Connections as their integration vendor.
"At eBridge Connections we're proud to offer a universal solution that allows merchants and businesses of all sizes and revenue to simplify their selling process," says eBridge Connections President and CEO, Colin Brown. "Offering 10 percent off to BigCommerce users hoping to integrate with NetSuite or MS Dynamics AX/365 before the end of 2017 helps make integration more affordable for those businesses who are nearing their yearly budget."
BigCommerce users can sign-up today for the 10 percent off discounts here:
Other BigCommerce clients not utilizing NetSuite or MS Dynamics AX/365 that are in need of an integration solution for their ERP application are encouraged to check out eBridge Connections' Accounting Integration app listing on the BigCommerce Marketplace in order to request a quote.
As BigCommerce continues to grow and be a top eCommerce platform choice for businesses across North America and the rest of the world, eBridge Connections is excited to help more BigCommerce store owners integrate with their back-office accounting/ERPs at affordable prices.
Read how eBridge Connections helped LifeCore Fitness close the gap between BigCommerce and NetSuite with order automation by clicking here: http://www.ebridgeconnections.com/Media/Success-Stories/LifeCORE-Fitness.aspx
Running other online stores? eBridge Connections also integrates with Shopify, Magento, Amazon, eBay, ChannelAdvisor, Volusion, WooCommerce, 3dCart, and much, much more.
For more information or to get started with an accounting/ERP integration solution today, please visit: www.ebridgeconnections.com
Or, contact us at marketing@ebridgeconnections.com
Source: eBridge Connections
Share: