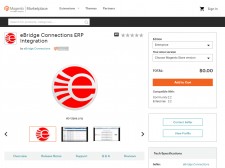 eBridge is proud to announce the release of their extension listing on Magento Marketplace, which enables businesses to connect accounting systems and ERPs like Microsoft Dynamics, Epicor, NetSuite, SAP Business One, Sage, and others, with their Magento store.
BURLINGTON, Ontario, November 13, 2018 (Newswire.com) - eBridge Connections, a leading iPaaS vendor and provider of expert accounting integration for your growing business, today announces the release of their eBridge Connections ERP Integration Extension on the Magento Marketplace. The extension, which allows Magento users to integrate with their ERPs or accounting applications, is now publicly available and ready for Magento platform users to find when their order volume gets overwhelming to input manually.
"Our new listing on Magento Marketplace is a great way for us to invite Magento users to reap the benefits of our universal integration platform that has been vastly upgraded and improved since our migration to Microsoft Azure last year," says Senior Marketing Manager at eBridge Connections, Lindsay Hampson. "Our partnership with Magento is an extremely valuable one for us, and we look forward to helping more Magento eCommerce merchants automate their business processes and improve their operational efficiency."
This announcement follows a series of recent actions that eBridge Connections has taken to strengthen and reinforce their Magento partnership. Just last week, eBridge Connections' headed to New York City to attend Meet Magento NYC 2018.
With hundreds of pre-built connectors and thousands of live workflows, eBridge Connections helps Magento merchants integrate with ERPs, online marketplaces like Amazon or eBay, CRM applications such as Salesforce or Microsoft Dynamics CRM, shipping and fulfilment software like ShipStation, etc. eBridge can also help merchants set up EDI integration to do business with big-box retailers like Home Depot, Walmart, Macy's, JC Penney, and many others.
For more information or to learn what ERPs we can help integrate with Magento, please visit: www.ebridgeconnections.com/blueprint-builder.aspx or download our Magento extension at: https://marketplace.magento.com/ebridge-integration.html
Source: eBridge Connections
Share: