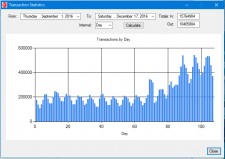 The company transacted a record number of orders for merchants, retailers, and entrepreneurs, both in-store and online, with their universal and scalable integration platform.
Burlington, Ontario, December 21, 2016 (Newswire.com) - eBridge Connections, a leading provider of integration solutions for the growing business, today announces record growth in 2016 thanks to its universal integration platform and services. With this growth, the company has provided a record number of merchants, retailers, and entrepreneurs the ability to expand their businesses and sell in-store and online with greater ease and efficiency.
The eBridge Connections' cloud-based integration platform connects accounting/ERP packages to eBridge ePortal where data is normalized so that it can be exported into any eCommerce platform (such as Shopify, BigCommerce, Magento, MIVA, etc.), into any CRM application (such as Salesforce and Microsoft Dynamics CRM), or electronically transferred to EDI trading partners.
We continue to set new records for transactions through eBridge ePortal. The last week actually saw more volume than our Black Friday/Cyber Monday volumes. The volumes consist of shipments and invoices for the earlier orders as well as a continuation of high volumes of eCommerce orders. Early estimates from the industry show about a 41% increase over 2015 sales for online transactions this year (which holds very well with our statistics).
The solution is designed to empower merchants by offering them a better way to do business. When selling online, an eBridge Connections' integration solution allows for the faster processing of orders. When selling in-store, eBridge Connections offers EDI integration solutions that enable merchants to do business with big-box retailers or 3PLs, who have strict requirements for standardized electronic document exchange.
According to a Survey released by the National Retail Federation, Black Friday weekend was quiet in stores across the United States, as many Americans opted to shop online instead. eBridge Connections experienced this 'bricks-and-mortar to eCommerce' shift first-hand, having transferred their highest ever volume of order documents and data over the course of that weekend.  That number is still growing through December.
As eCommerce continues to expand across North America and the rest of the world, eBridge Connections is excited to expand their universal integration platform with an ever-growing list of connectors that are all built and maintained in-house in 2017. And for those wishing to sell their products in-store as well, eBridge is happy to provide EDI integration that makes it easy to do business with all the big-box retailers such as Walmart, Target, Home Depot, and more.
For more information or to get started with your accounting integration solution today, please visit: www.ebridgeconnections.com
Or contact us at info@ebridgeconnections.com
About eBridge Connections
eBridge Connections delivers powerful, cloud-based ERP and accounting integration to automate vital business processes and eliminate the need for manual data entry. The eBridge universal integration platform supports over 30 ERP and accounting systems including products from Microsoft, Sage, SAP, NetSuite, and Epicor. With connections to the leading eCommerce and CRM applications, plus hundreds of EDI trading partners, eBridge Connections has become the integration platform of choice for businesses looking to optimize their exposure worldwide.
For more information, please visit www.ebridgeconnections.com.
Source: eBridge Connections
Share: