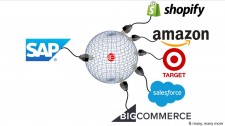 An automated integration solution by eBridge allows SAP users to connect their business systems and process orders faster, fulfill shipments easier, and maintain inventory records more accurately.
Burlington, Canada, August 4, 2017 (Newswire.com) - After proudly building and maintaining a robust universal integration platform that supports hundreds of connectors, eBridge Connections, an integration Platform as a Service (iPaaS) vendor, today announces that their integration platform has helped dozens of SAP ECC and SAP Business One users with integration solutions that have simplified their selling processes and saved their businesses time and money.
As more and more merchants and entrepreneurs turn to SAP's reliable ERP systems to maintain records and important business data, eBridge's technology is setting them up for success by integrating their orders, inventory, shipping updates, and more, to and from their online stores or in-store retail trading partners, in order to maximize efficiency and result in satisfied and happy customers.
eBridge Connections is no stranger to integrating business systems for SAP users that have high order volumes and require a ton of data to flow back and forth between business applications each and every day.
"One of our largest customers is an SAP user," says eBridge Connections President and CEO, Colin Brown. "They trust us to handle their order data and keep their business running smoothly, especially on peak transaction days like Black Friday and Cyber Monday. In fact, just last year we transferred a record number of documents for this client (and many others) over the Black Friday weekend."
Other high profile businesses have turned to eBridge Connections for help integrating their SAP ERP systems with their online stores and retail trading partners, as well:
1)      Gourmet Settings has trusted eBridge's SAP Business One and EDI connector for over 12 years now
Getting their products on the shelves of more big-box retailers like Target, Costco, Kroger, Bed Bath & Beyond, Loblaws, etc., required Gourmet Settings to find an EDI integration solution that would electronically transfer data from their SAP Business One ERP to these retail giants.
Thanks to eBridge Connections, Gourmet Settings is now able to exchange important business documents with their 10+ trading partners, and also integrate their homegrown webstore into the mix so that orders, inventory, shipping, and more, would be fully automated as well.
2)      Hitfar has eliminated manual transaction processing with an integrated EDI solution from eBridge Connections
When Hitfar contacted eBridge, they were searching for an integration solution that was cost effective, scalable, and could handle large transaction volumes to and from their SAP Business One ERP.
As new relationships were established with retailers and suppliers across North America, eBridge assisted Hitfar during onboarding by quickly enabling EDI connections with these new trading partners.
"The product is technically sound and extremely flexible. It is one of the best products to integrate with SAP Business One, and has pre-mapped EDI connections with many of the big-box retailers."
- Hitfar
Some common SAP integrations that eBridge Connections has come across are:
SAP ECC / SAP R3 to Shopify
SAP Business One to Magento
SAP Business One to BigCommerce
SAP ECC / SAP R3 to Salesforce
SAP Business One to EDI trading partners
SAP ECC / SAP R3 to Amazon
And many, many more
What makes eBridge Connections' SAP ECC / SAP R3 and SAP Business One connectors different from others in the industry, is that they are part of a much larger, fully universal integration platform. This means while eBridge can easily connect your online store and retail trading partners to SAP ECC or SAP Business One, they can just as easily add additional connectors to automate order data from CRMs (i.e. Salesforce, MS Dynamics CRM, etc.), other eCommerce marketplaces (i.e. Amazon, eBay, etc.), and shipping/fulfillment software (i.e. ShipStaton, FedEx, etc.). It also means that you can upgrade your ERP system anytime with ease, thanks to eBridge Connections' commitment to fully upgrading and maintaining their connectors at all times so as to ensure they are up to date and ready to go when you choose to upgrade.
Learn more about SAP ECC and SAP Business One integration: http://www.ebridgeconnections.com/Solutions/ERP-Integration/Connectors/SAP-R3-ECC.aspx
http://www.ebridgeconnections.com/Solutions/ERP-Integration/Connectors/SAP-Business-One.aspx
Or, contact us at marketing@ebridgeconnections.com.
Source: eBridge Connections
Share: