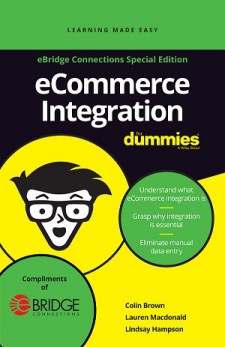 Download your free copy today and discover eCommerce integration best practices while learning how an integration solution can solve your order entry challenges.
Burlington, ON, February 21, 2017 (Newswire.com) - eBridge Connections, a leading provider of integration solutions for your growing business, today announces the release of eCommerce Integration For Dummies, eBridge Connections Special Edition. This eBook, available immediately for free download, describes the best practices for linking accounting/ERP systems with eCommerce platforms, CRM applications, and EDI trading partners in 24 short pages.
For over 25 years, eBridge Connections has been "writing the book" on integration solutions that automate vital business processes and create more efficient workflows for businesses worldwide. Now, with the help of For Dummies, a branded imprint of Wiley, eBridge is proud to offer up their knowledge in a brand new eBook, explaining in plain English the best practices for eCommerce integration solutions.
"At eBridge Connections we're excited to offer this educational resource which will allow merchants to better understand eCommerce integration and discover how a universal integration solution can meet the unique needs of their business," says eBridge Connections President and CEO, Colin Brown. "Our hope is that this eBook will draw attention to an often unheard of solution that really succeeds in making business easier and more efficient."
Would you benefit from having data pushed and pulled from:
Accounting packages / ERPs such as: NetSuite, Microsoft Dynamics, Epicor, Sage, SAP
eCommerce platforms such as: Shopify, Magento, BigCommerce, Amazon, eBay, WooCommerce, Miva, 3dCart
Trading partners requiring EDI such as: Home Depot, Costco, Sears, Walmart, Target
CRM systems such as: Salesforce, Microsoft Dynamics CRM
As eCommerce continues to grow across North America and the rest of the world, eCommerce Integration For Dummies will help retailers comprehend the typical steps involved in an integration solution, including determining why, when, and how to integrate. For those retailers wishing to sell their products in-stores, and/or maintain detailed customer records and data, this book also delves into EDI and CRM integration solutions that empower merchants to sell in more places.
To download your free copy of eCommerce Integration For Dummies, eBridge Connections Special Edition, please visit: www.ebridgeconnections.com/dummies
Please direct questions or comments to marketing@ebridgeconnections.com
About eBridge Connections
eBridge Connections delivers powerful, cloud-based ERP and accounting integration solutions that automate vital business processes and eliminate the need for manual data entry. The eBridge universal integration platform supports over 30 ERP and accounting systems including products from Microsoft, Sage, SAP, NetSuite, and Epicor. With connections to the leading eCommerce and CRM applications, plus hundreds of EDI trading partners, eBridge Connections has become the integration platform of choice for businesses worldwide.
For more information, please visit www.ebridgeconnections.com.
About For Dummies®
To people that value knowledge, dummies is the platform that makes learning anything easy because it transforms the hard-to-understand into easy-to-use. Through expert editorial, engaging experiences and an approachable style, learners at every level can confidently use their knowledge to fuel their pursuit of professional advancement and personal betterment. With a commitment to maintaining the highest editorial standards and a promise to continue developing new, innovative digital experiences, dummies makes learning anything even easier.
For more information, visit www.dummies.com. Dummies is a branded imprint of Wiley.
Source: eBridge Connections
Share: