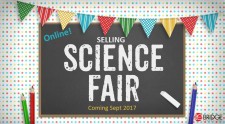 Drop by the virtual Science Fair gymnasium to watch videos from Shopify, BigCommerce, 3dCart, Web2Market, Bold Commerce, SAP, Yappn, and many, many more!
Burlington, Canada, August 29, 2017 (Newswire.com) - eBridge Connections, an iPaaS vendor and leading provider of integration solutions for your growing business, is proud to be hosting the first-ever Online Selling Science Fair on September 20th, 2017. Sellers that attend will have free access to videos created by ERP vendors, web agencies, eCommerce solution providers, and leading eCommerce platforms and marketplaces, so that they can quickly browse the top partners in eCommerce and find the tools and applications that will help them grow and succeed.
"eBridge is partnered with so many awesome and unique companies that are passionate about empowering sellers to be successful," says eBridge Connections Channel Development Coordinator, Marc Darmon. "The idea behind Selling Science Fair is to allow these companies to showcase their talents to merchants and entrepreneurs in a fun, light-hearted, and easy-to-digest way."
Here's what sellers can expect to see on September 20th:
·         A 'virtual gymnasium' where they can stop by and easily browse dozens of 2-5 minute videos that showcase tools, apps, platforms, and more, designed to help merchants sell more easily.
·         The ability to help eBridge Connections reward a first-place Selling Science Fair ribbon to the most exciting and creative exhibitor.
·         A fun, free, and easy way to learn more about the best eCommerce partners in the industry including Able Sense, Centage, 3dCart, Bold Commerce, ShipperHQ, Yappn, Shopify, SAP, Web2Market, IWD Agency, eBridge Connections, and more.
Watch the Selling Science Fair 2017 trailer, now: https://www.youtube.com/watch?v=dd3Lj2i1ifk
Want to stay in the loop and receive reminders about Selling Science Fair 2017? Sign up now to attend: http://www.ebridgeconnections.com/sellingsciencefair
For more information, or to ask questions, contact us at marketing@ebridgeconnections.com
###

About eBridge Connections
eBridge Connections delivers powerful, cloud-based ERP and accounting integration solutions that automate vital business processes and eliminate the need for manual data entry. The eBridge universal integration platform supports over 30 ERP and accounting systems including products from Sage, Microsoft, SAP, NetSuite, and Epicor. With connections to the leading eCommerce and CRM applications, plus hundreds of EDI trading partners, eBridge Connections has become the integration platform of choice for businesses worldwide. For more information, please visit www.ebridgeconnections.com.
Source: eBridge Connections
Share: