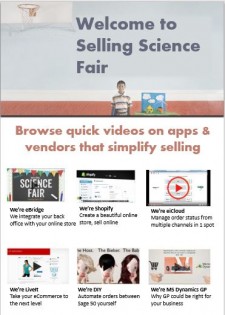 Selling over Amazon, Shopify, Magento, BigCommerce, ebay or in-store? Register for Selling Science Fair today.
Burlington, Ontario, July 27, 2017 (Newswire.com) - eBridge Connections, a leading provider of integration solutions for your growing business, invites entrepreneurs and merchants to register for their virtual "Selling Science Fair."  Selling Science Fair is a video resource website that will go live on September 20th and will showcase quick videos from vendors that make online selling platforms more robust or strategic.  The audience is sellers, like Sophie.  
"If [Selling Science Fair] is an opportunity to review applications and vendors all at once, I know our owners would be interested.  We are exploring applications since our current platform is not as robust as we would like." - Sophie
Sellers that attend will have free access to videos created by ERP vendors, web agencies, eCommerce solution providers, ERP and CRM consultants, eCommerce platforms and marketplaces, and even retail giants so that they can quickly browse the top partners in commerce.
Sign up here and eBridge will keep you informed about Selling Science Fair 2017: http://www.ebridgeconnections.com/sellingsciencefair
On Thursday, September 20th, sellers can hop online and easily watch lots of short 2-minute videos where agencies, ERPs, consultants, app developers, and more, express their worth.  This allows businesses who sell in-store or online to browse the numerous vendors out there in a fun, light-hearted way.   Sellers will also be invited to vote on their favourite "exhibitors" and help eBridge Connections crown the Selling Science Fair first, second, and third place finishers.  
For more information, or to ask questions, contact us at marketing@ebridgeconnections.com
About eBridge Connections

eBridge Connections delivers powerful, cloud-based ERP and accounting integration solutions that automate vital business processes and eliminate the need for manual data entry. The eBridge universal integration platform supports over 30 ERP and accounting systems including products from Sage, Microsoft, SAP, NetSuite, and Epicor. With connections to the leading eCommerce and CRM applications, plus hundreds of EDI trading partners, eBridge Connections has become the integration platform of choice for businesses worldwide. For more information, please visit www.ebridgeconnections.com.
Source: www.ebridgeconnections.com
Share: